<< | site map | >>
INVALID!
IBEScript.exe Distribution Software incl. 12 month software subscription
Our distribution software for IBEScript.dll and IBEScript.exe especially for those customers who do not require the full range of products and tools offered in the IBExpert Server Tools.
IBEScript.exe can be used to execute any valid IBExpert script in batch files from the command line. For example a scheduled import or export job can be started without the need of any user input. IBEScript.exe can also be used to encrypt script files, so that they are unreadable for the user, but executable together with IBEScript.exe. If the end user does not have the necessary password(s), he cannot decrypt any files, ensuring security of sensitive information.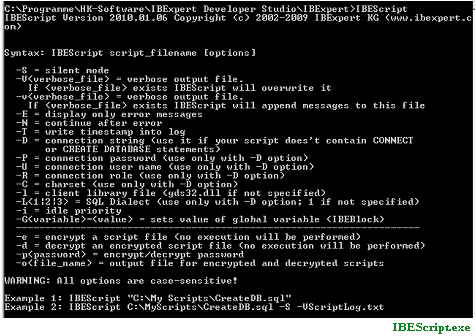 The 12 months subscription includes:
Access to the IBExpert Download Center to download all new releases
Access to the activation portal to generate new activation codes
The software registrations have to be activated within the 12 month period in the IBExpert Download Center. Unused activations will automatically expire after 12 months.
If you would like unlimited use of this product without individual computer-related activation, you can purchase the IBEScript.exe/IBEScript.dll OEM distribution software.
The IBEScript.exe Distribution Software gives you the right to integrate IBEScript.exe in your application. You can use it for executing IBEBlock scripts that connect to different databases at the same time, integrate any ODBC connection as source or destination, simple data import and export, metadata comparison and much more.
The distribution software contains only the file IBEScript.exe and the right to integrate and distribute it together with your software for the 12 month software subscription period. You do not even require an IBExpert full version, although the integrated debugger will help you considerably when developing working scripts.
For a detailed product description and examples please refer to our online documentation.
All functionalities of the IBEBlock scripting language as well as the HK-Software Services Center backup/restore tools are also available on registered Server Tool computers, for example, metadata and data comparison, multiple database access, etc.
You can find a summary of all IBExpert software products and prices under All products & prices. All our products can be purchased in our online shop or by email to sales@ibexpert.biz. Details of purchase and payment options can be found here. If you have any further questions please mail sales@ibexpert.biz.
The full IBEScript.exe software conditions can be viewed and downloaded here: IBEScript.exe software conditions.
What is IBEScript.exe?
IBEScript.exe can be used to execute any valid IBExpert script in batch files. For example a scheduled import or export job can be started without the need of any user input.
What is IBEBLOCK?
It is a set of DDL, DML and other statements that are executed on the server and on the client side, and which include some specific constructions applicable only in IBExpert or IBEScript (excluding the free versions of these products), independent of the database server version.
With EXECUTE IBEBLOCK you will be able to:
Work with different connections within the single IBEBLOCK at the same time.
Move (copy) data from one database to another.
Join tables from different databases.
Compare data from different databases and synchronize them.
Populate a table with test data using random values or values from other tables or even from other databases or ODBC connections.
… and much more.
The syntax of IBEBLOCK is similar to that of stored procedures but there are many important extensions.
The IBEScript.exe file does not require any additional keys and will run without time limitations, but to distribute this file with your application, you must renew the distribution software after 12 months.
<< | site map | >>