The Firebird Backup and Restore validation tool
How do you know that your database backups are valid without any errors? IBExpert has experienced emergency calls from clients that their database has been corrupted and backups were not useful to restore a database successfully. In order to know that a backup is valid you need to apply a restore operation. Only with a valid restore operation, you will know for sure that the backup has been successful and can be used for a successful database restore.
Thats were the IBEWatchDog tool can assist you. IBExpert has designed IBEWatchDog to assist you to manage and monitor your firebird db backups and db restores. If the tool experiences a bad backup instance, it will notify you per email and IBExpert can be contacted for assistance with paid support if needed to resolve any issues as soon as possible. IBEWatchDog will give you the piece of mind to have IBExpert experts available in case something goes wrong with your backup/restore schedule plan.
IBExpert WatchDog is available in 3 different versions:
Free Setup and distribution, supporting a single database with xnet protocol (local) only.
Paid level a: Multiple databases, xnet (local) only for 20 Euro.
Paid level b: Multiple databases, xnet and remote upload (local/shared folder/network location/ftp/sftp) for 50 Euro.
IBEWatchDog Feature Highlights Free Version
Backup/Restore job scheduler for single database on xnet local desktop/server/laptop
Single Backup/Restore Job instance
Backup/Restore failure notification by specified email
IBExpert quick paid support using pcvisit support
IBEWatchDog Additional Feature Highlights Paid Version
Multiple Backup/Restore job scheduler for multiple databases on xnet local desktop/server/laptop
IBEWatchDog Additional Feature Highlights Full Version
Multiple Backup/Restore job scheduler for multiple databases local/remote including automatic specified (local/shared folder/network location/ftp/sftp) uploads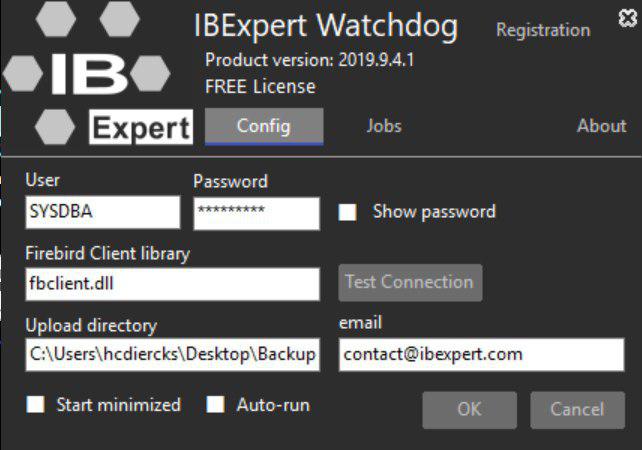 back to top of page
<< IBExpertBackupRestore | Documentation | IBExpertDemoDB >>
Any comments? Send an email to register@ibexpert.biz
COPYRIGHT © 2002-2019 HK-Software, IBExpert Ltd. All rights reserved.
All IBExpert brand and product names are trademarks or registered trademarks of IBExpert Ltd in Malta and other countries. InterBase, Delphi, CodeGear, C++Builder, Delphi/400, Delphi for PHP and JBuilder are trademarks or registered trademarks of Embarcadero Technologies Inc. in the United States and other countries. Firebird is a registered trademark of the FirebirdSQL Foundation. Turbo Pascal is a registered trademark of Borland International, Inc. Sun, Java, JavaScript and Solaris are trademarks or registered trademarks of Sun Microsystems, Inc. or its subsidiaries in the United States and other countries. UNIX is a registered trademark in the United States and other countries, exclusively licensed through "The Open Group". Oracle is a registered trademark of Oracle Corporation in the United States and other countries. All Microsoft brand and product names are trademarks or registered trademarks of Microsoft Corporation in the United States and other countries. AS/400, DB2, IBM, Informix and iSeries are trademarks or registered trademarks of IBM Corporation in the United States and other countries. Linux is a registered trademark of Linux Torvalds. dBASE is a trademark of dataBased Intelligence, Inc. Skype is a registered trademark of Skype Ltd., in the United States and other countries. All other product names mentioned herein and throughout the entire web site are trademarks of their respective owners.