<< Download and install InterBase | IBExpert | Registering your IBExpert software >>
Download and install your IBExpert software

see also: Registering your IBExpert software

Download and install your IBExpert software
The IBExpert Developer Studio software, the IBExpert Company Year Edition, the free IBExpert Personal Edition, IBExpert Educational version, IBExpert Day Edition and the IBExpert Server Tools can be downloaded in the
IBExpert Downloadcenter registration
If you are new to the IBExpert Downloadcenter you will need to register certain information, in order to obtain your access password. (Our data protection policy can be referred to here.)
(If you already have an IBExpert Downloadcenter email account, you may proceed to Download your IBExpert software.)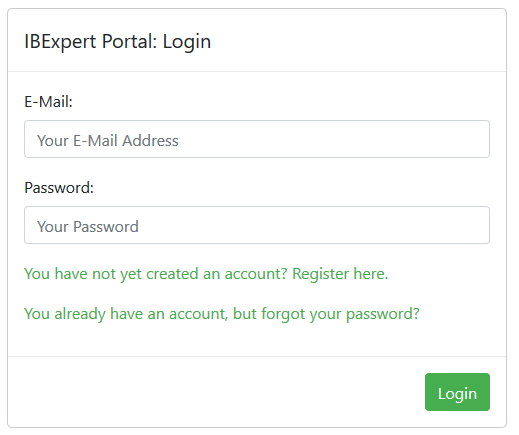 Click You have not yet created an account? Register here button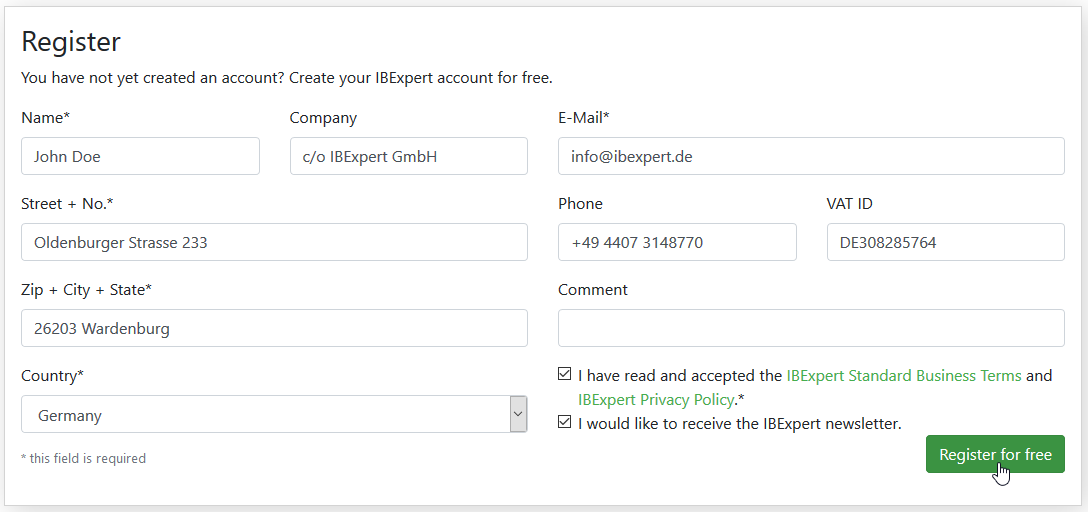 fill out the form, accept the IBExpert Standard Business Terms and IBExpert Privacy Policy as well as (recommended!) the checkbox I would like to receive the IBExpert newsletter and then save to register.
Once you have registered you will be sent a password by email (you must of course enter a valid e-mail address in order to receive your password).
Downloadcenter password
You will be sent an 8-digit password by email, with the subject heading Your Password for the IBExpert Downloadcenter, immediately following registration.
If you did not receive the password please check your spam folder; alternatively return to the IBExpert Downloadcenter, and click You already have an account, but forgot your password?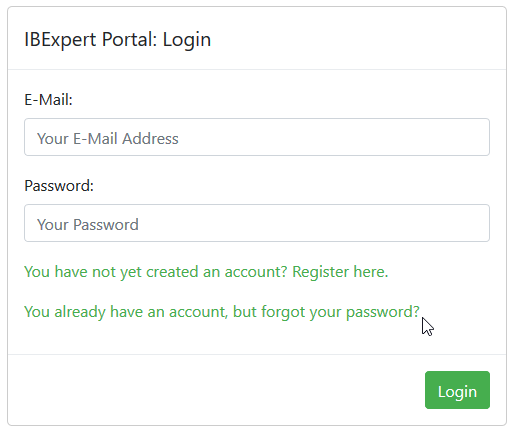 Enter your e-mail address and click the Send password button: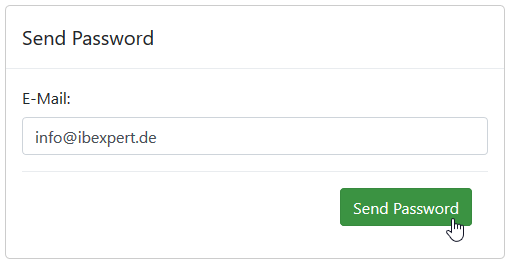 Once you have received your password you can login into the IBExpert Downloadcenter: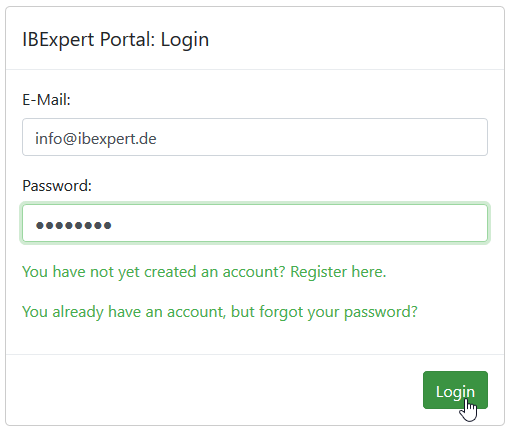 Change address, newsletter subscription and contact information
Address and contact details may be altered after logging in. Click My Account in the menu bar at the top of the screen:

This displays the information you have already submitted:

After clicking the Change button, you can alter any or all information with the exception of your email address.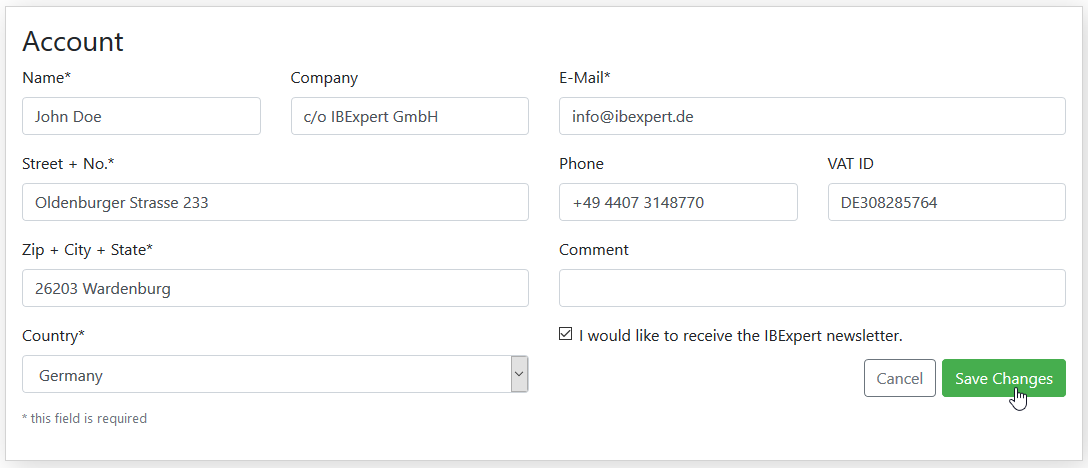 Download Software
All software is available for download in the IBExpert Downloadcenter. Click Downloadcenter in the menu bar at the top of the screen:

Here you can view all available software that has been purchased for this email account, as well as the free IBExpert Personal Edition. Information includes the number of remaining available activations as well as the subscription expiry date. Important: without a valid subscription you wil no longer be able to access any new versions uploaded here.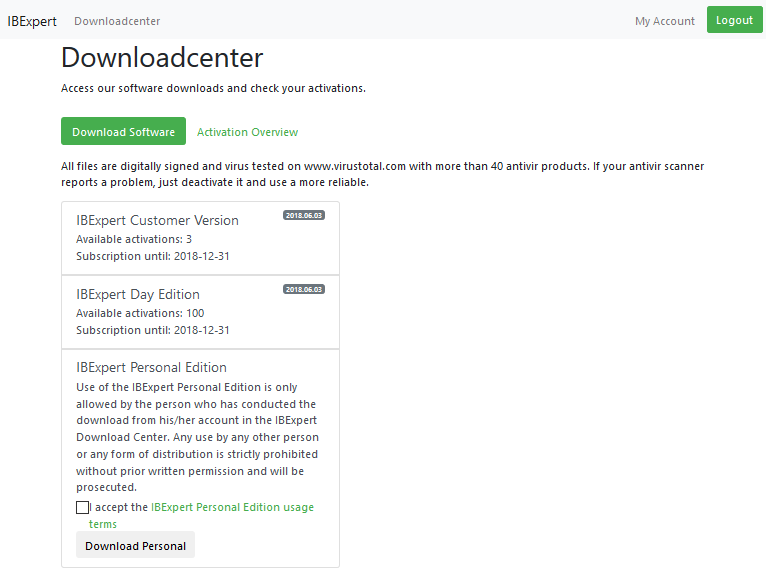 Click on the IBExpert version you wish to download and save.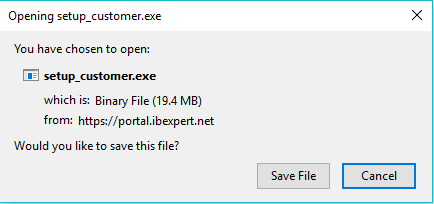 If you cannot see your IBExpert software here, your IBExpert software subscription may have expired. You can purchase the relevant software edition online.
By downloading and installing the free IBExpert Personal Edition, you are agreeing to the contract terms, as stated on the free IBExpert Personal Edition product page.
If your anti-virus software claims to have found a virus, please ignore. As it says in the Downloadcenter: All files are digitally signed and virus tested on www.virustotal.com with more than 40 antivir products.
Activation Overview
Here you can view all current software activations detailing the computer name, machine code and timestamp of the activation. Should you have an IBExpert Hotline account, you can also view the details here.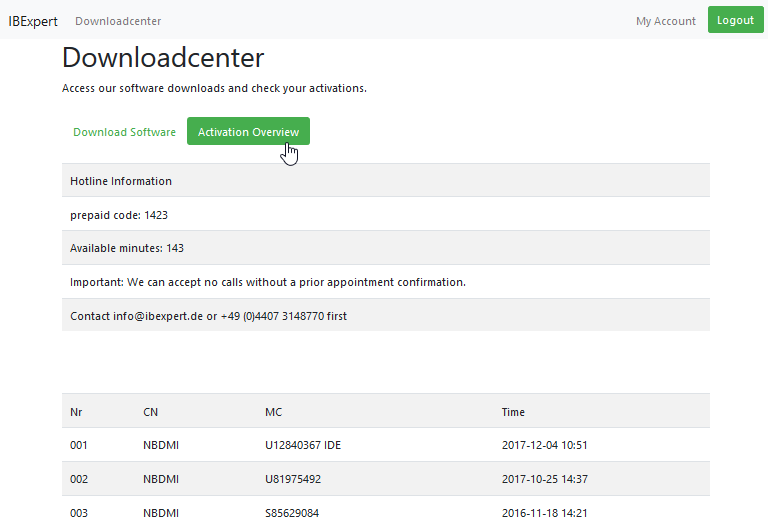 Install IBExpert
You can download all IBExpert versions (IBExpert Customer Version (IBExpert Developer Studio Edition), IBExpert Day Edition, IBExpert Developer Studio Company Year Edition, Free and Full IBExpert Educational Editions, free IBExpert Personal Edition, and the IBExpert Server Tools etc.) from the IBExpert Downloadcenter.
If you haven't yet created an account in the IBExpert Downloadcenter, please first read: Registering your IBExpert software.
Download your IBExpert version, as described above. Please ensure you always use the most current IBExpert setup.exe.
Double-click the downloaded EXE file to start the installation. The IBExpert Customer version offers the full selection of all IBExpert Developer Studio Tools: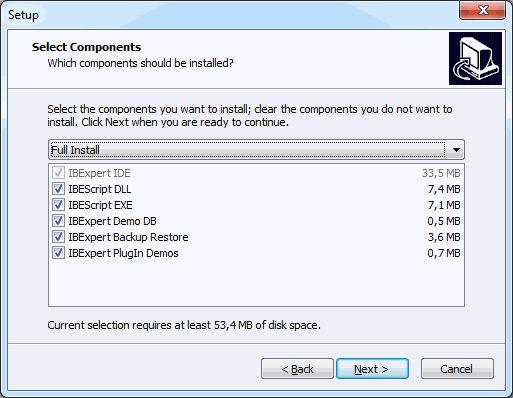 ... (new to IBExpert version 2019.04.14):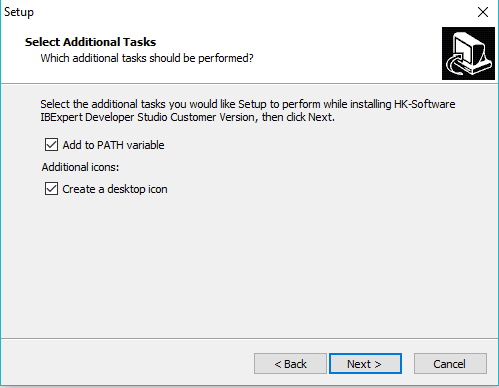 ...
Following confirmation of the Software Agreement and confirmation or alteration of the installation directory, IBExpert is automatically installed and started.
When installing your first IBExpert customer version you will be asked to register the product the first time the application is started. This is described in detail in the next section, Registering your IBExpert software.
To alter the IBExpert interface language, use the IBExpert menu Options / Environment Options. Use the drop-down list found under Interface Language to select the language of your choice. This dialog also offers default options for the specification of the database version and client library.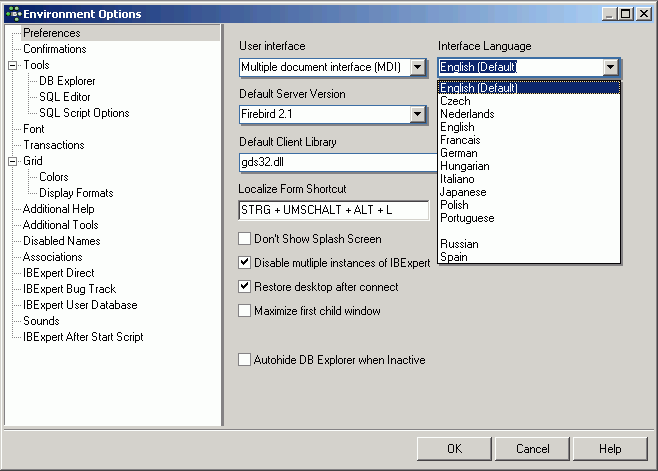 It is also important that you set up your IBExpert User Database before starting work with IBExpert.
To keep you informed of all new developments, we recommend you retain IBExpert Direct which is automatically activated in IBExpert. Further information regarding IBExpert Direct and adjusting the default settings can be found in the IBExpert Help menu item, IBExpert Direct.
We also recommend you subscribe to the IBExpert newsletter, which informs you of new developments and new versions (including documentation of all new features). Log into your IBExpert Download Center account, click My Account (top right) then Change and activate the I would like to receive the IBExpert newsletter checkbox to subscribe. Alternatively follow us on Facebook or Twitter.
To help you get started in IBExpert and Firebird, we offer a comprehensive online documentation. And you will find a range of tutorial videos in our Learning Center or on our YouTube channel. Or you can take advantage of our range of support offers.
Should you encounter any problems whilst attempting to download and install IBExpert, please send an e-mail to register@ibexpert.biz, with a detailed error description (including screen shots).
back to top of page
<< Download and install InterBase | IBExpert | Registering your IBExpert software >>