<< Database Shutdown | IBExpert | Communication Diagnostics >>
The IBExpert Services menu item Database Online is used to bring a database back online again after it has been shut down (please refer to Database Shutdown for further information).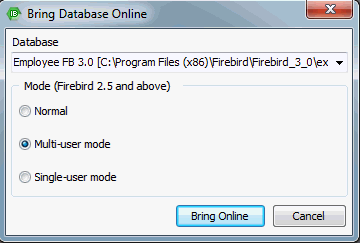 Simply select a registered database and bring the database online.
The online/shutdown modes are available for Firebird 2.5 and above.

Firebird Database Housekeeping Utility: Database startup and shutdown

<< Database Shutdown | IBExpert | Communication Diagnostics >>