<< DBEncryption Plugin for Firebird 3.0 | IBExpert | What's New? >>
Introduced in IBExpert version 2021.01.07, this menu item allows you to enter and store your IBExpert Download Center data once, so that in future, you can download all new IBExpert setup files onto the registered computer without any additional steps, as long as your subscription is still valid and the computer has an internet connection.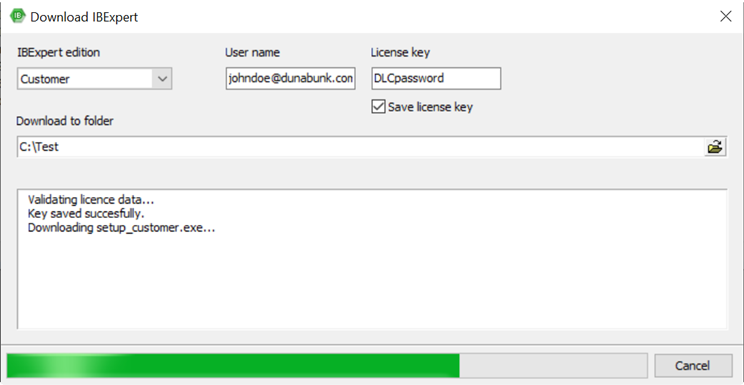 Select your registered IBExpert version: IBExpert Company Year Edition, IBExpert Customer version (i.e. IBExpert Developer Studio Edition) or the IBExpert Day Edition.
Then enter your IBExpert Download Center email address in the field User name and your IBExpert Download Center password in the field License Key (the naming of this field will be changed in future versions). Activate the Save license key option, if wished.
Select the path where you wish your IBExpert setup.exe file to be saved, and click the Download button.
After the file has been successfully downloaded, you will be asked if you wish to close IBExpert to install the new setup immediately.

back to top of page
<< DBEncryption Plugin for Firebird 3.0 | IBExpert | What's New? >>