(redirected from Doc.IBExpertCommand-LineTools)
<< Firebird Special Edition by IBExpert | Documentation | IBExpert FAQs >>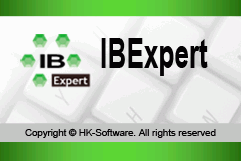 IBExpert Server Tools Documentation
IBExpert Server Tools includes IBEScript.exe, IBEScript.dll, IBExpertBackupRestore, hkSCC.exe, and the DBEncryption Plugin for Firebird 3.0. These cover the majority of the options offered by the InterBase® and Firebird command-line utilities and much more. This product does not include the IBExpert IDE!
These tools are vital for typical administration tasks, for example, importing or exporting data from or to any ODBC data source such as MS SQL, Oracle, DB2, IBM iSeries, Excel, Access and so on. Programming a data interface based on this technology between any Firebird/InterBase® and ODBC platform takes just minutes.
All functionalities of the IBEBlock scripting language are also available on registered Server Tool computers, for example, metadata and data comparison, multiple database access, database encryption (since Firebird 3) etc.
To be allowed to distribute any of the IBExpert Server Tools modules (hkSCC.exe, ibescript.exe, ibescript.dll and fbcrypt) together with your application, you require:
For details of the various software models please refer to the IBExpert website. Some functions of the new IBExpert modules do not work on non-registered computers, so you can only use them where your IBExpert registration is valid.
back to top of page
<< Firebird Special Edition by IBExpert | Documentation | IBExpert FAQs >>