<< Import data | IBExpert | Extract Metadata >>
The Search in Metadata option can be found in the IBExpert Tools menu, using the respective icon in the Tools toolbar, or started using the key combination [Shift + Alt + F]. It is identical to the Edit menu's Find option - Find in Metadata page.
This option is useful for finding individual words/digits or word/digit strings in metadata and in object descriptions. It even searches for and displays field names, as opposed to the DB Explorer filter, which only searches for object names. The Find Metadata dialog offers a number of options: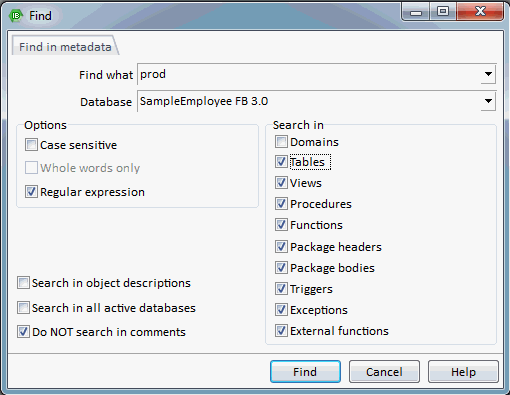 Searching in functions and packages (Firebird 3) was implemented in IBExpert version 2014.09.15.
Here the user can specify what he is looking for; the drop-down list displays previous search criteria. A single active database may be selected from the second list; alternatively the Search in all Active Databases option can be checked, in the bottom left-hand corner of the dialog.
Further Search options include:
You can refine the search area by activating/deactivating the following check-box options:
Search in object descriptions.
Search in all active databases.
Do NOT search in comments.
After clicking on the Find button, a new Search dialog is opened: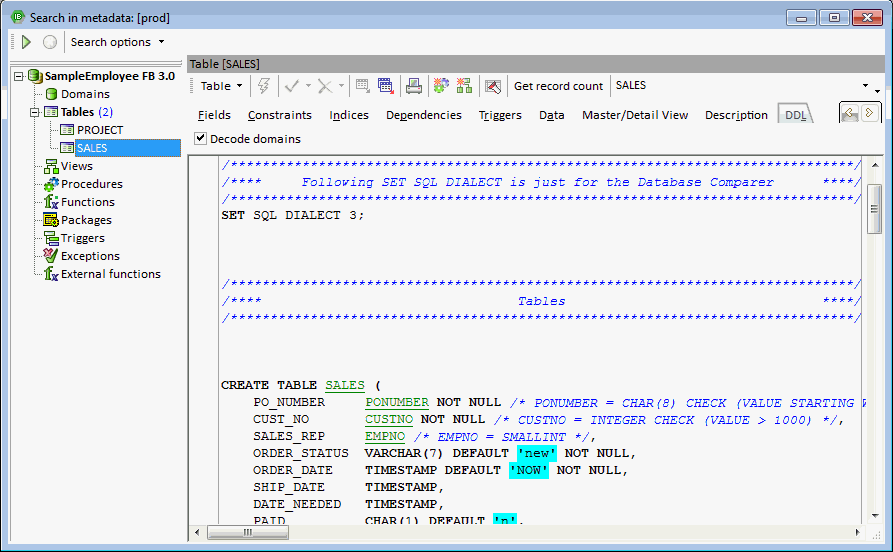 The Search Options button in the toolbar can be used to restart the Find dialog, in order to specify new Search conditions. The arrow to the right of this produces a drop-down overview of the search criteria specified.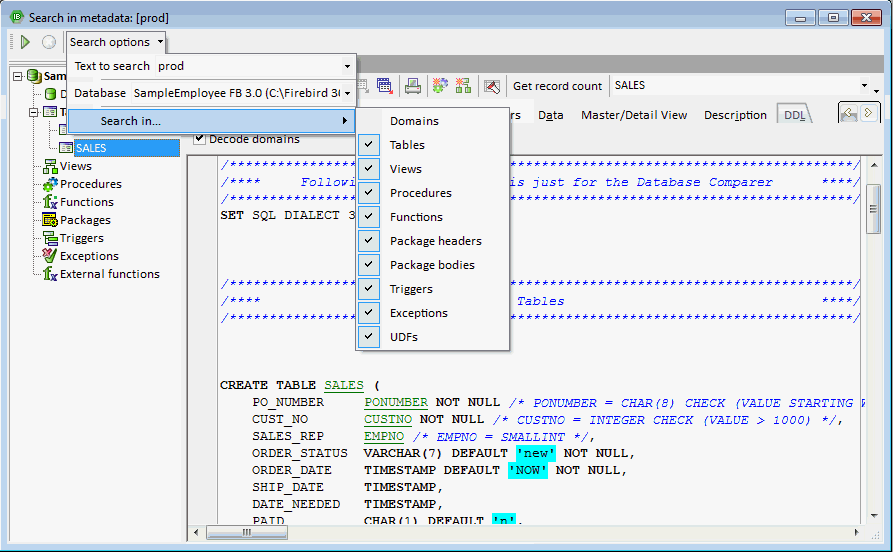 The results of the Metadata Search are displayed in the usual IBExpert tree form, sorted by database object type. By double-clicking on an object, the object editor is opened.
back to top of page
<< Import data | IBExpert | Extract Metadata >>