Monitor and optimize database performance with the Plan Analyzer, Performance Analysis, SQL Monitor, Database Statistics, Recompute Selectivity of all Indices, Recompile Procedures and Triggers, global Stored Procedure/Trigger Operations Index analysis etc.
For advanced queries use the IBExpert Script Executive, which also offers a wide range of useful script extensions, only available in IBExpert; or the Visual Query Builder, ideal for those gaining their first experience with SQL.
Create your own database from a model, or a model from your existing database with the Database Designer, including layers, subject areas, autoroute, notation format, and much more.
Comprehensive Data Analysis / OLAP for cross-classified tables, statistics and graphics – all exportable in a number of formats.
Copy, move or compare data and even join tables – all from different databases in a single script using IBEBlock.
With IBEBlock you have a powerful set of DDL, DML and other statements executed on both the server and client side, and which include some specific constructs applicable only in IBExpert or IBEScript, regardless of the database server version.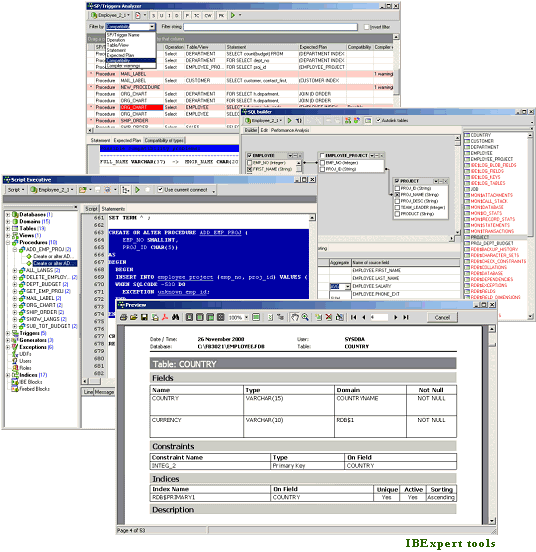 Speed up and optimize your procedure and trigger programming with the Stored Procedure and Trigger Debugger; use the Assistant for their creation from any SQL statements; analyze using the Stored Procedure, Trigger and View Analyzer.
User-defined or ready-made reports for database documentation, which can be stored in the database or as a file (PDF, Word etc.). Quick and simple HTML database documentation can be produced with just a few simple mouse clicks!
Extract Metadata to create a copy of your database, with or without data content.
Integrated Communications Diagnostic.
Export of results in several formats; direct CSV file and ODBC data import.
User and Grant Manager, with Autogrant function for automatic assignment of privileges for new database objects.
See what's really happening in your database using IBExpert's Log Manager or the Trace and Audit Services (since Firebird 2.5).
Hyperlinks, Code Completion, Assistants and many other features to speed up your development.
Flexible user-definable interface – customize your screen, projects, code templates etc.
Numerous product constellations to meet your requirements: Single and mutliuser software packages, Day Edition and free Personal and Educational versions.
Regular fully-documented updates. Quick support of new Firebird features.
Comprehensive documentation (context-sensitive, online and in printed form), online tutorial videos and active forum support.
Multilingual.
With full Unicode support.
… and much, much more!
IBEScript.exe
All registered IBExpert Developer Studio versions (except the IBExpert Day Edition and the free IBExpert Developer Studio Educational Edition) include IBEScript.exe for your own script and IBEBlock development. This is also offered as part of the IBExpert Server Tools, for scripts and IBEBlock deployment on customer computers.
IBExpertDemoDB
Another component included in the Developer Studio is the IBExpertDemoDB database, which can be used for benchmark and performance testing.
Documentation & support
All our products are accompanied by a comprehensive online documentation. We also offer forum support for all questions regarding IBExpert and Firebird as well as online tutorials in our learning center.
Purchase
All IBExpert software can be purchased online. Details of purchase and payment options can be found here. If you have any further questions please mail sales@ibexpert.biz.
On our Download page you can view product information as a film or PDF in English, German, French, Dutch or Japanese.