This year's Firebird Conference from October 17 - 19, 2019 in Berlin, will feature highly interesting topics dedicated to large Firebird databases.
Be sure to make a note: By Holger Klemt and Christian Diercks: Advanced IBExpert
Advanced IBExpert

- See the possibilities in IBExpert for your daily administration work
- IBExpert IDE features you might not know
- Drag and drop
- Debugging and logging, monitoring and trace API
- Customizing the IDE, on connect scripting
- The user database and what you can do with it.
- Interactive metadata and data comparer
- Database inside, repair corrupt databases, when Gfix etc fails
- Running scripts from IDE, command line or DLL
- New product: IBExpert Watchdog
Further top sessions from IBExpert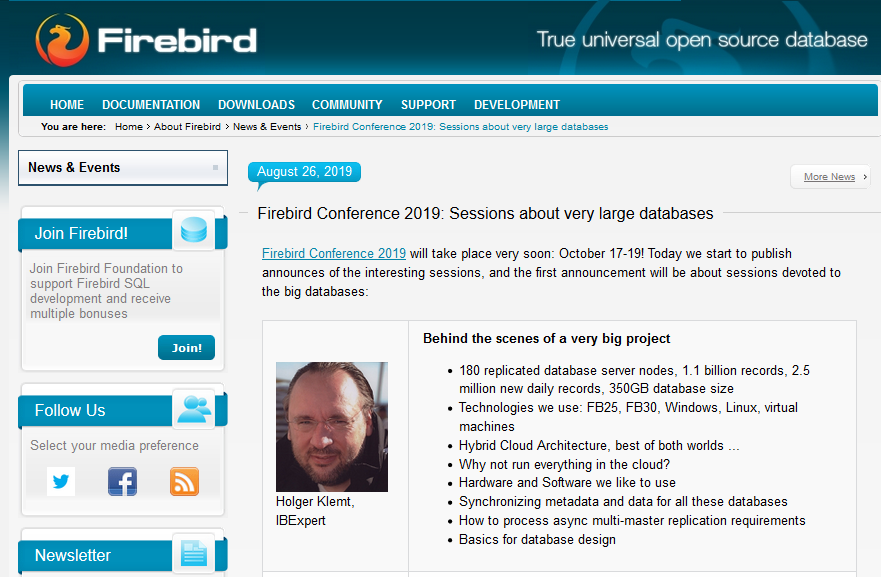 Advanced IBExpert Scripting

- How to automate your daily tasks with IBExpert tools and IBEBlock scripting
- Connect a script to ODBC and Firebird, switching between connections
- Advanced exception handling in IBEBlock scripts
- INSERTEX and EXPORT AS
- Convert your database from any Charset to UTF8 or other using IBEBlock scripting
- Load and save blobs and files
- Load data from internet URLs and process
- ibec_RecompileTrigger, ibec_RecompileProcedure, ibec_CompareMetadata, ibec_ExtractMetadata
- ibec_CompareTables
- OEM and IBExpert Server Tools licensing
All IBExpert software products and software subscriptions will be offered at a 50% discount only at the Firebird Conference.
You can order directly at our conference stand (offer also applies to early renewal of your software subscription) and pay cash or with your VISA/MC/EC card.
If you are not allowed to place orders for your company yourself, you can obtain an order form at our stand to use for your purchase at our special prices until 30.10.2019.
The order form may also be used to extend your current valid IBExpert Software subscription at the special rates.
(All prices are prepayment prices plus VAT. Please send your completed and legally signed order form by e-mail to the address given on the form.)
Register now so that you do not miss any of our top topics.
This year's Firebird Conference will focus on Firebird 4 and include a series of workshops: advanced presentations and practical exercises. We want to make it more educational, more practical, and less theoretical.
Direct links to the organizerís sites:
---
Do you have any questions? Write to us! info@ibexpert.de.