IBExpert Server Tools includes the following components:
All our products are accompanied by a comprehensive online documentation.
hkSCC.exe
The HK-Software Services Control Center enables you to easily specify the services and parameters for running the IBExpertBackupRestore service. More information below.
hkIBRS.exe
The IBExpertBackupRestore Scheduler, hkIBRS.exe, runs as a service for the automatic execution of the Backup and Restore scripts created in the HK-Software Services Control Center. More information below.
IBEScript.exe
IBEScript.exe can be used to execute any valid IBExpert script in batch files. For example a scheduled import or export job can be started without the need of any user input. IBEScript.exe can also be used to encrypt script files, so that they are unreadable for the user, but executable together with IBEScript.exe. If the end user does not have the necessary password(s), he cannot decrypt any files, ensuring security of sensitive information.
All IBEScripts can be managed in the IBExpert DB Explorer (Script/Blocks page and Script node) and stored in the IBExpert User Database.
IBEScript.exe can be found in the IBExpert root directory, and needs to be started from the command line.
This product is also available as an OEM Distribution Edition.
IBEScript.dll
When you want to integrate IBExpert scripts in your own application, you can use IBEScript.dll. A simple example for Delphi® can be found in IBExpert's IBEScriptDll subdirectory. It can also be used from all other programming languages that can handle DLL calls.
This product is also available as an OEM Distribution Edition.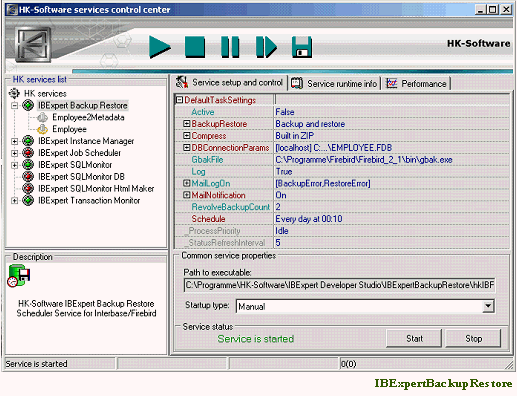 IBExpertBackupRestore
The IBExpertBackupRestore service is a comprehensive utility, providing automatic backup and restore facilities for Firebird and InterBase® databases with backup file compression and even an option to automatically mail backup/restore log files, or mail a specific address to inform that a backup has completed successfully or whether an error has occurred.
It is possible to set up automatic backups for any number of databases, with separate backup, restore, schedule and log mailing parameters for each database. Backup files can be compressed and then restored to an alternative server to save resources on your main server.
It can be set up and administrated in the HK-Software Services Control Center.
DBEncryption Plugin for Firebird 3.0
IBExpert has developed an encyption plugin for Firebird 3.0, currently available for Windows (32/64 bit) and Linux (32/64 bit). Latest version of IBExpert includes the 32-bit embedded version, free to use in embedded mode. Server versions (32 bit and x64) require the IBExpert server tools.