<< Secondary Files Manager | IBExpert | Localize IB Messages >>
This feature can be used to organize your database development. It can be found in the IBExpert Tools menu and also in the IBExpert object editors. This feature is unfortunately not included in the free IBExpert Personal Edition.
After allowing IBExpert to create the necessary system objects:

you can add to-do items for each object in the database, using the right mouse-click context-sensitive menu or the [Ins] key. This menu also allows you to Edit a to-do item ([F2]), Delete a to-do item ([Ctrl # Del]), Hide done to-do items (or click the icon in the toolbar) and Refresh to-do list (also found in the toolbar). To-do items can also be entered directly on the To-do pages in the object editors.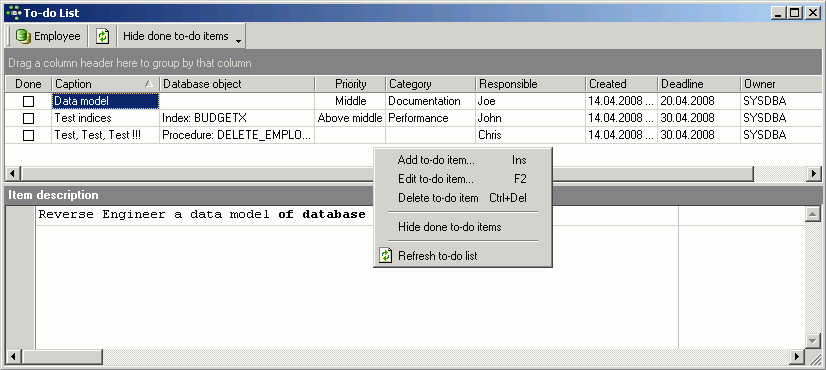 The fields in the New to-do item dialog are not mandatory, but may be completed as wished. Pull-down options lists and a calendar are provided where relevant, and the Description field in the lower part of this window allows you to include as much information as you wish or need.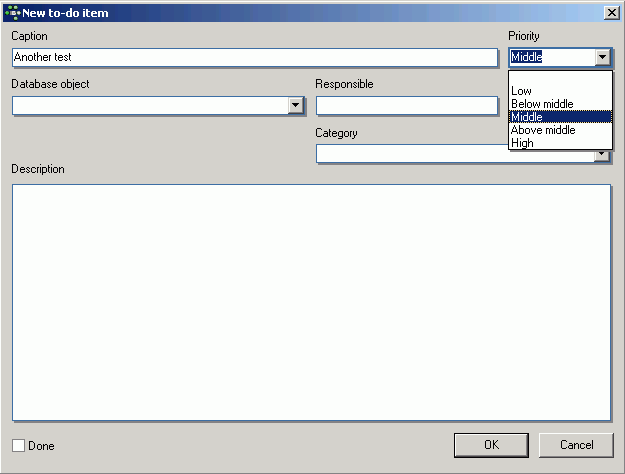 Once a to-do item has been completed, it can be checked as Done and, if wished, either hidden from view or deleted.
back to top of page
<< Secondary Files Manager | IBExpert | Localize IB Messages >>