REDIRECT TO: https://www.ibexpert.net/ibe/pmwiki.php?n=Main.Benchmark
Compare your computer performance and test the speed of your Firebird Windows server
You can use the IBExpert Benchmark Tool for free of charge on any computer.
This limited special version of the IBExpert Benchmark Tool includes Firebird 2.5 and 3.0 versions, so you do not need to install Firebird on the server to be tested.
The Benchmark Tool tests 10 parallel running threads.
Running the benchmark will not overwrite any programs already in use, nor does it install anything, so that you can safely run the benchmark on your server.
The IBExpert Benchmark Tool does not use an existing Firebird installation and will only test the drive on which it is installed.
The Benchmark Tool is quick and easy to use: download it here: https://ibexpert.com/benchmark/setup_benchmark.exe, install and run it straight away. Important: you will need to install and run this as Admin.
If you would like a more flexible version of our benchmark, which allows you to change various test options, or even perform a benchmark on a Linux operating system or remote servers, please purchase an IBExpert full version.
With our commercial version it is also possible to test 50 - 250 parallel running threads. Description of the benchmark in the full version.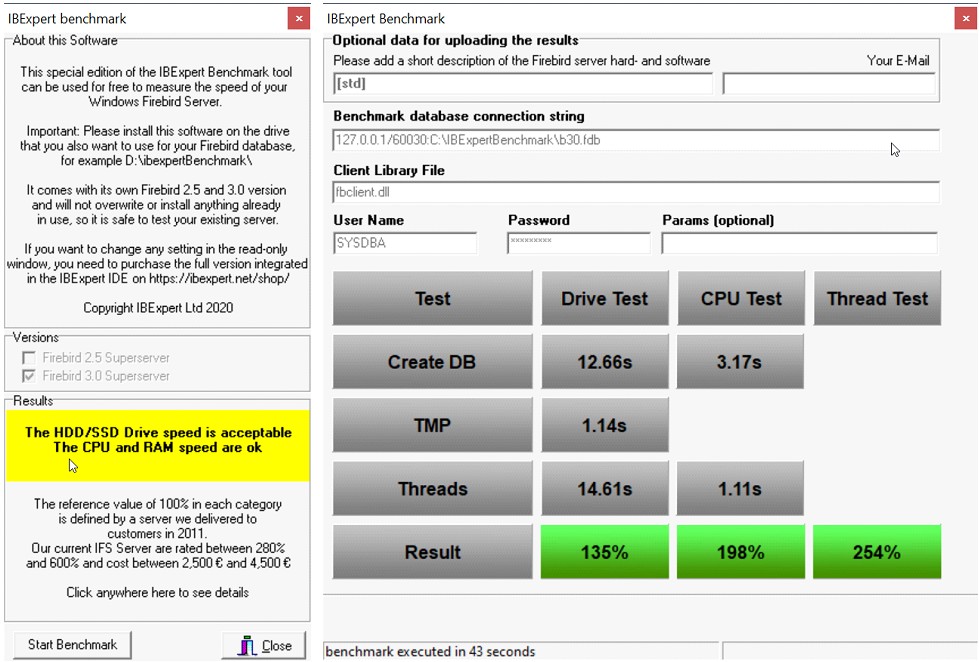 If the results are poor, click in the results window. You will be automatically redirected to our homepage. Here you can view our current offers for our really fast IFS Firebird servers.
We deliver our IFS Firebird servers worldwide.
Please request a written offer by e-mail.
<< IBExpert Watchdog | site map | IBExpert Benchmark Tool >>