New IBExpert Version 2019.10.9 available
New features include:
PSQL Debugger: Support of Trace Into for package routines and stored functions, and of DECFLOAT and NUMERIC(38, x) variables and parameters (Firebird 4).
Trace and Audit: Analysis of large trace logs is now possible: retrieve only necessary items from a trace log file using the Grid View mode with applied filter criteria. .
Database Designer: Support of identity columns (GENERATE BY DEFAULT AS IDENTITY and GENERATE ALWAYS BY IDENTITY).
Do you develop SQL databases professionally and need an efficient and powerful tool? With IBExpert Software you have made the right choice. You will quickly become familiar with its extensive features. Whether you enjoy the control of hand-coding DML or DDL statements or working in a visual editing environment, IBExpert software makes it easy to get started and provides you with outstanding tools to accelerate and enhance your work.
IBExpert is the most comprehensive GUI tool for Firebird on the market today.
IBExpert contains a wide range of coding tools and features. An overview of all IBExpert features can be found here.
Standard software doesn't suit your requirements? We can also provide application software! Ask our sales department: sales@ibexpert.biz
… and if you get stuck – we're more than happy to help!
IBExpert and Firebird Workshops: All our workshops can be booked as company training and all topics can be customized to fit your requirements. Too little time? All workshops are also possible as remote training.
In addition to training, consulting and workshops we can offer you a number of support concepts.
We are happy to support you to resolve your problems, both with our IBExpert software and with our technical expertise regarding Firebird databases.
To ensure a rapid and optimal solution, please contact our experienced IBExpert and Firebird specialists.
Hotline
Together we can perform a benchmark test of your existing system and discuss during the telephone call which measures are necessary so that you can work efficiently in the future, or we can prepare an offer based on the results obtained.
We recommend setting up a prepaid hotline customer account with a sufficient credit balance so that we can help you quickly and unbureaucratically in an emergency and you save time and money. Your hotline credit does not expire and can be used as required.
We can also offer you a solution for your server hardware. The IBExpert Firebird IFS 2019 Server Module - our standard IFS Server, configured by IBExpert GmbH for highest functionality and performance for all Firebird 2.5/3.0 databases. Further information.
Our technical team will be happy to advise you about an optimal server configuration tailored to your needs. Hotline
Important conferences not to be missed!
The international Lazarus Conference will take place in Eindhoven/NL from November 29 - 30, 2019. Please register here: https://www.lazpro.net/.
This year's Firebird Conference from October 17 - 19, 2019 in Berlin, will feature highly interesting topics dedicated to large Firebird databases.
---
Be sure to make a note: Behind the scenes of a very big project by Holger Klemt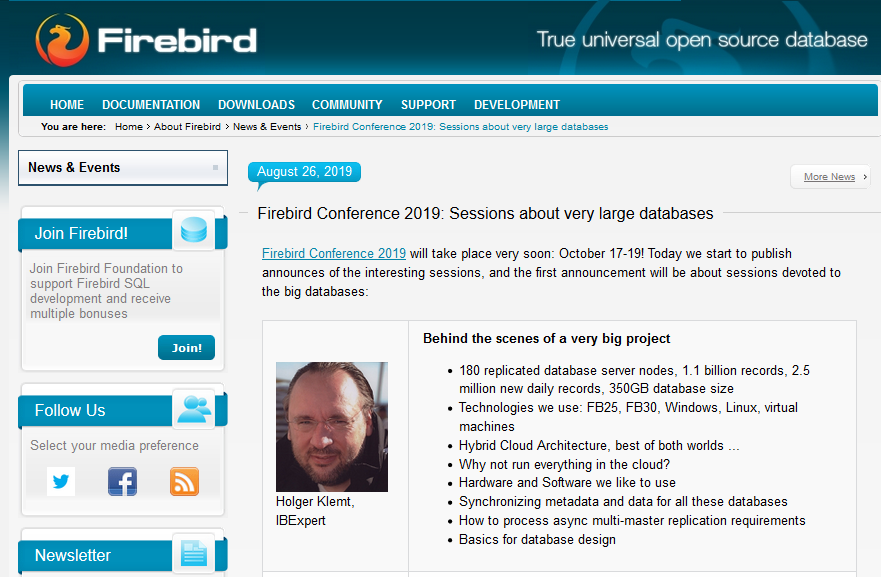 Further top sessions from IBExpert
By Holger Klemt and Christian Diercks: Advanced IBExpert
See the possibilities in IBExpert for your daily administration work
IBExpert IDE features you might not know
Drag and drop
Debugging and logging, monitoring and trace API
Customizing the IDE, on connect scripting
The user database and what you can do with it
Interactive metadata and data comparer
Database inside, repair corrupt databases, when Gfix etc fails
Running scripts from IDE, command line or DLL
New product: IBExpert Watchdog
By Holger Klemt and Fikret Hasovic: Advanced IBExpert Scripting
How to automate your daily tasks with IBExpert tools and IBEBlock scripting
Connect a script to ODBC and Firebird, switching between connections
Advanced exception handling in IBEBlock scripts
INSERTEX and EXPORT AS
Convert your database from any Charset to UTF8 or other using IBEBlock scripting
Load and save blobs and files
Load data from internet URLs and process
ibec_RecompileTrigger, ibec_RecompileProcedure, ibec_CompareMetadata, ibec_ExtractMetadata
ibec_CompareTables
OEM and IBExpert Server Tools licensing
All IBExpert software products and software subscriptions will be offered at a 50% discount only at the Firebird Conference.
You can order directly at our conference stand (offer also applies to early renewal of your software subscription) and pay cash or with your VISA/MC/EC card.
If you are not allowed to place orders for your company yourself, you can obtain an order form at our stand to use for your purchase at our special prices until 30.10.2019.
The order form may also be used to extend your current valid IBExpert Software subscription at the special rates.
(All prices are prepayment prices plus VAT. Please send your completed and legally signed order form by e-mail to the address given on the form.)
Register now so that you do not miss any of our top topics.
This year's Firebird Conference will focus on Firebird 4 and include a series of workshops: advanced presentations and practical exercises. We want to make it more educational, more practical, and less theoretical.
Direct links to the organizer's sites:
---
IBExpert is renowned worldwide as the specialist for Firebird databases and much more! All your questions are welcome and will be answered as soon as possible. Please do not hesitate to contact us.