NEW (initially for German speakers): IBExpert and Firebird Wednesday's get-together online - participation free of charge!
The number of people infected with Corona is increasing daily significantly and many companies are following the advice of health experts and letting their employees work from home.
We would like to use this time to further your training. Every Wednesday we offer all those who have to work from their home office, an IBExpert and Firebird online get-together, initially in German, with Holger Klemt.
Our online get-together will take place until further notice, every Wednesday from 5pm-7pm (Central European Time).
Register by Smartphone or from your PC using the following link: https://www.gotomeet.me/ibexpert
With GoToMeeting you can follow on your monitor what Holger is currently showing on his screen, and ask questions, join in the conversation or make your own suggestions for topics in the chat room. If you just want to watch, you can also get a dial-in number for a pcvisit access. The dial-in number will be published in the GoToMeeting session.
Topics on Wednesday, 18 March 2020, 17.00 - 19.00
Firebird Performance and our new special version of the free IBExpert Benchmark Tool.
The online channel will be open from 16.50 for your registrations, at 17.00 we'll start.
If you are interested in an English-language online get-together, please let us know: sales@ibexpert.biz.
We look forward to your registrations and please stay healthy!
---
NEW IBExpert Benchmark Tool - Free special version
Compare your computer performance and test the speed of your Firebird Windows server with the free IBExpert Benchmark Tool.
You can use the IBExpert Benchmark Tool for free of charge on any computer.
This limited special version of the IBExpert Benchmark Tool includes Firebird 2.5 and 3.0 versions, so you do not need to install Firebird on the server to be tested.
The Benchmark Tool tests 10 parallel running threads. Running the benchmark will not overwrite any programs already in use, nor does it install anything, so that you can safely run the benchmark on your server. The IBExpert Benchmark Tool does not use an existing Firebird installation and will only test the drive on which it is installed.
The Benchmark Tool is quick and easy to use: download it here: https://ibexpert.com/benchmark/setup_benchmark.exe, install and run it straight away.
If you would like a more flexible version of our benchmark, which allows you to change various test options, or even perform a benchmark on a Linux operating system or remote servers, please purchase an IBExpert full version.
With our commercial version it is also possible to test 50 - 250 parallel running threads. Description of the benchmark in the full version.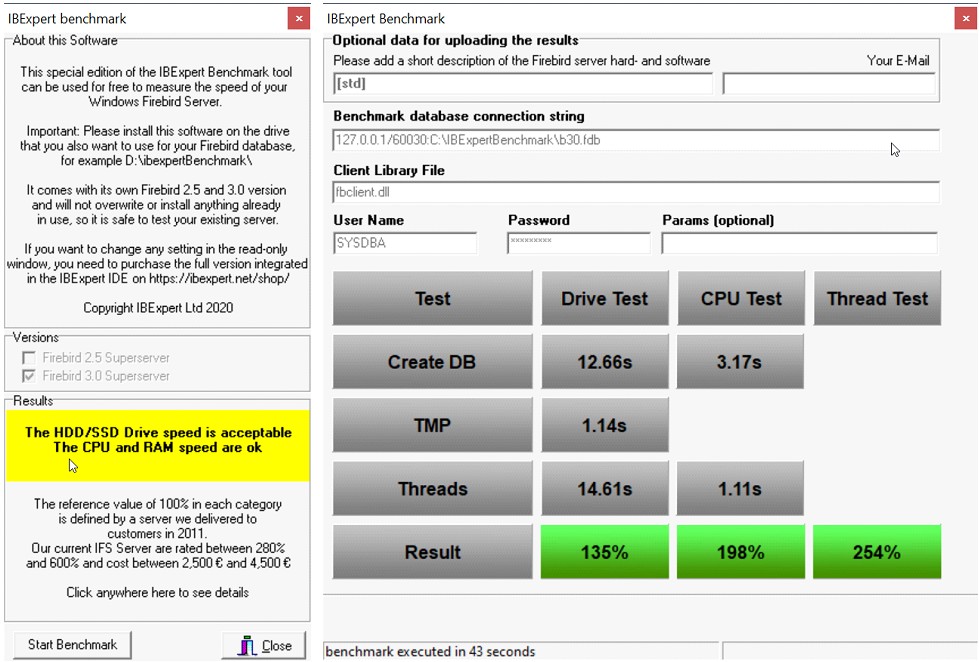 If the results are poor, click in the results window. You will be automatically redirected to our homepage. Here you can view our current offers for our really fast IFS Firebird servers.
We deliver our IFS Firebird servers worldwide.
Please request a written offer by e-mail.
---
NEW IBExpert version 2020.2.12 with new features available
Our special offer for March 2020: The IBExpert Developer Studio Day Edition - a cost-effective option to support your customers.
IBExpert Day Editions are ideal if you offer remote support to your customers, need to repair a database or just want to take a quick look at a Firebird database when you're out and about! They are the ideal supplement to all IBExpert full versions, ready for use on all customer computers at any time. Following activation, the Day Edition can be used for 24 hours and contains all functions of the IBExpert IDE, e.g. debugger, performance analysis and much more.
With the Day Edition you can use the IBExpert IDE wherever it is needed.
The IBExpert Day Editions are available in packages of 100, 500 or 1000 activations/year.
Get a 25% discount when you purchase one of the IBExpert Day Edition packages.
Write to sales@ibexpert.biz before 31 March 2020 to receive your direct order link for our online shop.
IBExpert training and further education
Put together your own individual company training, we cover all topics related to the Firebird database. Whether at your premises or as remote training, you decide!
You can gain a general impression of our range of topics here.
In addition to training, consulting, courses and workshops, we can offer you a variety of support concepts.
IBExpert Support - We are happy to help!
We are happy to support you and to solve your problems using our IBExpert and Firebird hotline. To attain the quickest and best possible solution, please contact our experienced IBExpert and Firebird specialists.
We recommend that you set up a prepaid hotline customer account with sufficient credit so that we can help you quickly in an emergency or provide important tips.
IBExpert - Fast Firebird servers for Windows and Linux operating systems
The latest generation of our Firebird IFS Rack Servers 2020 can now also be ordered as a basic version with Microsoft Windows 2019. We offer this server with the following options: Firebird IFS2020MW with 500GB SSD storage space for databases and backups at a price of EUR 2490 in a 1.5U rack case.
Our technical team are happy to advise you regarding a server configuration tailored to your needs.
Write to sales@ibexpert.biz with your requirements, issues, wishes ... and we will be happy to contact you.
IBExpert is renowned worldwide as the specialist for Firebird databases and much more.
All your questions are welcome and will be answered as soon as possible. Please do not hesitate to contact us.
IBExpert Team