IBExpert Workshops
Firebird Administrator intensive training focusing on speed, security and interfaces.
In our Firebird Power Workshop we focus on the tasks an administrator needs to perform to effectively operate a Firebird server. The aim is to achieve the optimum speed for the hardware and software used, to guarantee maximum operational reliability, and to be optimally prepared for a breakdown by means of a suitable worst-case scenario. We will also concentrate on the independent implementation of simple requirements in the areas of import, export and reporting.
IBExpert und Firebird Power Workshops
16th-17th April 2019, 9am-5pm, language: German, Holiday Inn Express Frankfurt Airport, Germany
24th-25th April 2019, 9am-5pm, language: English, Holiday Inn Express Frankfurt Airport, Germany
10th-11th June 2019, 9am-5pm, language: Indiegrove, 121 Newark Ave 5th Floor, Jersey City, New Jersey 07302 United States
We are also happy to come to you! Our workshops can be booked as company training and all topics can be customized to fit your requirements. Too little time? All workshops are also possible as remote training!
Advance notice - Additional topic at the IBExpert and Firebird Power Workshops!
The workshop will also include the presentation of our new tool IBEGbak.exe. This tool can greatly speed up the runtimes of your backups and, in particular, the restore process to a backup server.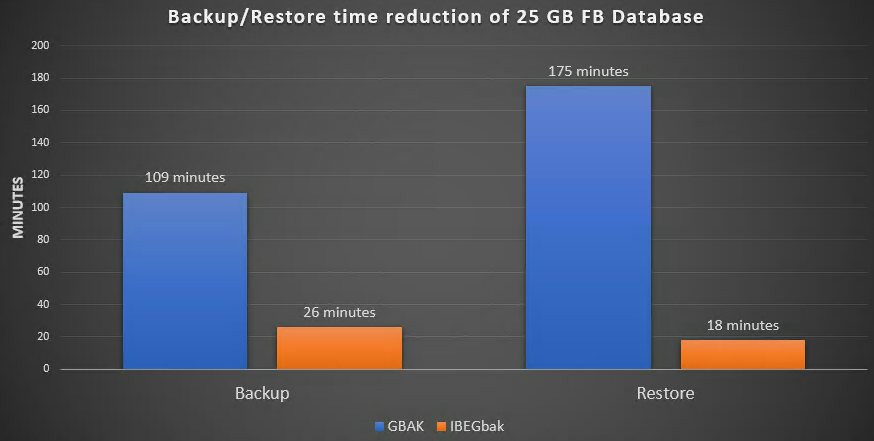 To compare: Without IBEGbak the backup of a 25GB database took 109 minutes, with IBEGbak only 26 minutes. The restore time has been reduced from 175 minutes to just 18 minutes!
C:\ibegbak>ibegbak.exe 192.168.0.100:test D:\db\test.fbk -user SYSDBA -password masterkey
Process execution time : 00:25:50
C:\ibegbak>ibegbak.exe -c d:\db\test.fbk 192.168.0.100:testx -user SYSDBA -password masterkey -rep
Process execution time : 00:17:39
C:\ibegbak>gbak.exe 192.168.0.100:test D:\db\test.fbk -user SYSDBA -password masterkey
Process execution time : 01:49:34
C:\ibegbak>gbak.exe -c d:\db\test.fbk 192.168.0.100:testx -user SYSDBA -password masterkey -rep
Process execution time : 02:55:44
Firebird 4.0 Beta 1 release is available for testing
The Firebird Project announces the first Beta release of Firebird 4.0, the next major version of the Firebird relational database, which is now available for testing.
This Beta release arrives with features and improvements already implemented by the Firebird development team, as well as with countless bugfixes. ... continue reading on the firebirdnews.org website.
Important: Please read the Firebird 4.0 Release Notes carefully before installing and testing this Beta release.
Have you already installed the new IBExpert Version 2019.01.15?
Activate IBExpert Direct in your application and you will be automatically notified of all new IBExpert versions. Please always install the latest IBExpert version available in your customer account.
We regularly inform you about new IBExpert features on our website. Click What's New to view the list of all current IBExpert features.
IBExpert Developer Studio Edition in use
... and you have different customer accounts, some of which have an expired software subscription? We can transfer your customer accounts to a central customer account in the IBExpert Download Center! Advantage? When you renew your 12-month software subscription in future, you benefit from our graduated prices and all colleagues can work with the full range of functions of all new IBExpert updates. We are happy to send you our offer to bring all your IBExpert software up to date - even if you are using older versions.
IBExpert Firebird IFS 2019 Server - our servers are configured for highest functionality and performance for all Firebird 2.5/3.0 databases.
Are you dissatisfied with your server performance? Compare your existing system with our standard IFS servers and book a free benchmark test. We need about 20 minutes to test your system.
Further information here.
Stay informed
Please read our IBExpert and Firebird News regularly: log in to the IBExpert Download Center with your customer data, click on My Account (top right), then Change, and check the I would like to receive the IBExpert newsletter box to activate your free subscription.
You will then receive our monthly IBExpert and Firebird news by e-mail, with information about new IBExpert product releases and updates, current white papers and case studies, information about our events, workshops and conferences and of course IBExpert special offers.
Do you have any questions? Write to us! info@ibexpert.de.