<< | Documentation | IBEBlock >>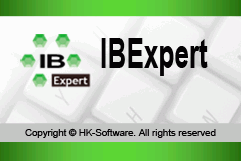 IBExpert Documentation
IBExpert is a professional Integrated Development Environment (IDE) for the development and administration of InterBase and Firebird databases.
Context-sensitive help can be started directly from IBExpert using the [F1] key for menu items, windows and SQL keywords.
If you are new to IBExpert we recommend first watching our powerpoint presentation (also available as PDF), IBExpert features.
Individual chapters in this online documentation may be selected and printed by clicking the Print icon on the right (scroll down the side bar). Important: please read our copyright conditions!
back to top of page
<< | Documentation | IBEBlock >>
 Any comments? Send an email to register@ibexpert.biz 
 

COPYRIGHT © 2002-2022 HK-Software, IBExpert Ltd. All rights reserved.
All IBExpert brand and product names are trademarks or registered trademarks of IBExpert Ltd in Malta and other countries. InterBase, Delphi, CodeGear, C++Builder, Delphi/400, Delphi for PHP and JBuilder are trademarks or registered trademarks of Embarcadero Technologies Inc. in the United States and other countries. Firebird is a registered trademark of the FirebirdSQL Foundation. Turbo Pascal is a registered trademark of Borland International, Inc. Sun, Java, JavaScript and Solaris are trademarks or registered trademarks of Sun Microsystems, Inc. or its subsidiaries in the United States and other countries. UNIX is a registered trademark in the United States and other countries, exclusively licensed through "The Open Group". Oracle is a registered trademark of Oracle Corporation in the United States and other countries. All Microsoft brand and product names are trademarks or registered trademarks of Microsoft Corporation in the United States and other countries. AS/400, DB2, IBM, Informix and iSeries are trademarks or registered trademarks of IBM Corporation in the United States and other countries. Linux is a registered trademark of Linux Torvalds. dBASE is a trademark of dataBased Intelligence, Inc. Skype is a registered trademark of Skype Ltd., in the United States and other countries. All other product names mentioned herein and throughout the entire web site are trademarks of their respective owners.